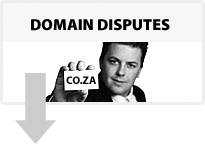 GENERAL ADVISORY
YOUR DOCUMENTATION AND EVIDENCE: IS IT COMPLETE AND ACCURATE?
The Regulations clearly set out the formal requirements of a domain name Dispute and Response and it is not the SAIIPL's place or responsibility to assist and coach you on the substantive requirements of filing a proper and complete Dispute.
We do however believe that the SAIIPL would not be acting in the best interests of the Regulations and the ADR process as a whole, if we did not point out certain general shortcomings in Disputes and Responses. Please take note of the following general principles that may apply to the documentation you intend filing with us:
1) The Adjudicator must decide the dispute based solely on the Dispute, Response and Reply. There is no requirement that the Adjudicator must conduct his/her own investigations in order to obtain clarity on a particular point, or to supplement a deficient Dispute or Response. The Parties must therefore ensure that their arguments are clearly defined and clarified in the documentation.
2) Parties should provide full and proper evidence with their Dispute or Response. Parties should not assume that the Adjudicator is aware of their trade name or any other fact that is critical to their case. The Parties are well advised not to take for granted any small detail, and to ensure that these details are included and substantiated in their documentation.
3) Disputes are adjudicated by experienced and senior Adjudicators, such as senior lawyers and advocates. These Adjudicators are accustomed to the procedures and practices usually associated with court litigation. Although it is not the intention of the Regulations to assume the strict rules of procedure normally associated with litigation, it remains important for Parties to formulate their arguments and evidence in a logical and concise manner. It is therefore important when attaching evidence that such evidence is indexed and paginated (an index is drawn up) so that the Adjudicator may refer to and locate the applicable evidence without much hassle.
Please consider the above carefully before submitting your Dispute, Response or Reply and satisfy yourself that your documentation is sufficient and complete.